Save 24%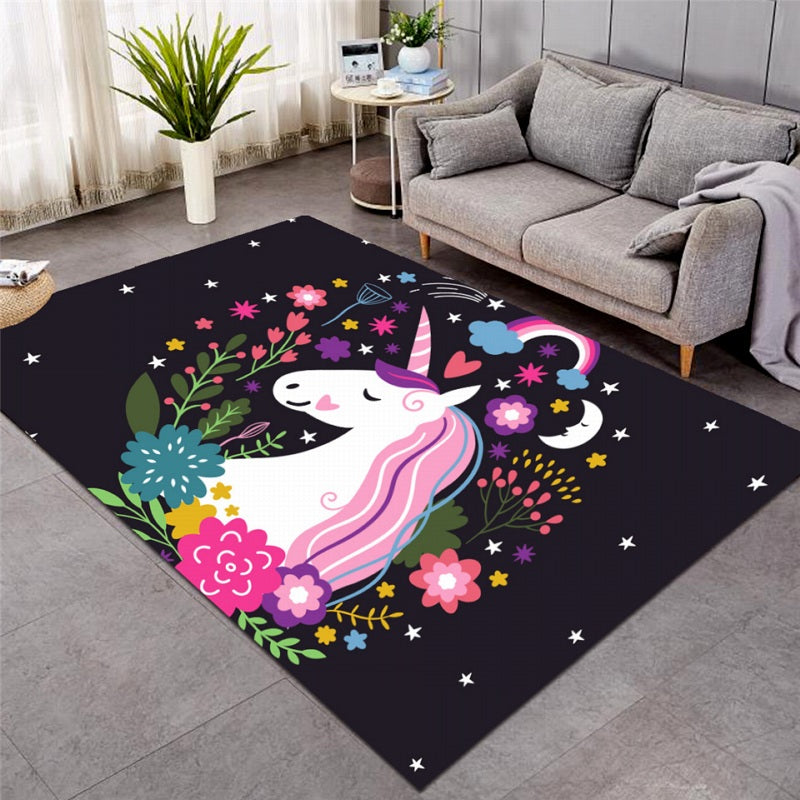 More About Our Unicorns Are Real Floral Area Rug Floor Mat
Adorned with a cute and colorful floral unicorn print, this Floral Unicorn Area Rug Floor Mat is made from durable polyester fabric with a soft foam interlayer and anti-slip backing. It's versatile and lightweight and is an adorable option for unicorn fans.
Floral Unicorn Area Rug Details:
Item Type: Unicorn Floor Mat
Design: Unicorns Are Real Floral Print
Qualities: Soft, Absorbent, Lightweight, Wear Resistant
Uses: Floor Mat, Area Rug, Play Mat
Main Material: Fleece Fabric (Polyester)
Shape: Rectangle
Technique: Digital Reactive Printing
Thickness: 10mm (0.4")
PLEASE NOTE: In order to ship this product it must be rolled / folded. It may arrive with some creasing, but the creasing will disappear after several days of use.
Unicorn Floor Mat Sizes:
1. Measurement methods vary, so please allow for 2-3% of error.
2. The color of this Floral Unicorn Floor Mat may vary slightly from the pictures due to computer monitor settings, lighting, background, etc.
Conversion: 2.54 cm = 1 inch
Benefits & Policies
Happy customers make happy store owners, so it's important for you to feel confident with every purchase you make from our website. Here are some of the extra benefits you'll receive by shopping at 100 Unicorns:
100% money-back guarantee if an item is not as described upon arrival. If you receive the wrong item, it's damaged or you're unsatisfied with it for any reason, we'll provide a full refund - no questions asked. Return shipping charges may be applicable, unless the item is damaged or we've made a mistake.
This item qualifies for buyer protection if it doesn't arrive within the estimated delivery dates. This means that we'll provide a 20% discount if your shipment is late. Estimated shipping dates are shown above (below the item price) and can also be found on our Shipping & Delivery page.
Not only do we promise to deliver on-time, but we offer free shipping to over 200 countries around the world. 99% of our customers qualify for free shipping.
No minimum order to qualify for free shipping; the price you see is the price you'll pay with no surprise charges.
If you send us a photo of your item and a review, we'll provide a minimum of 10% OFF on your next order, with no expiration date and no strings attached.
How can we offer this level of customer service? It's one of the huge benefits of having an online-only store with access to dozens of manufacturers from around the world. We keep our costs low so we can pass on the benefits to our customers. Welcome to the new age of Internet shopping!
For additional information about our delivery and fulfillment procedures, refer to our Shipping & Delivery page here
* Note: Some orders may be delivered in seperate packages. We keep our prices low by partnering with multiple manufacturers. Plus, delivering items separately helps to minimize per-parcel values to avoid customs charges and import taxes.